Historical Novels by Kay Meredith – Affair at Boreland Springs
Shattered Allegiance
A historical novel by Kay Meredith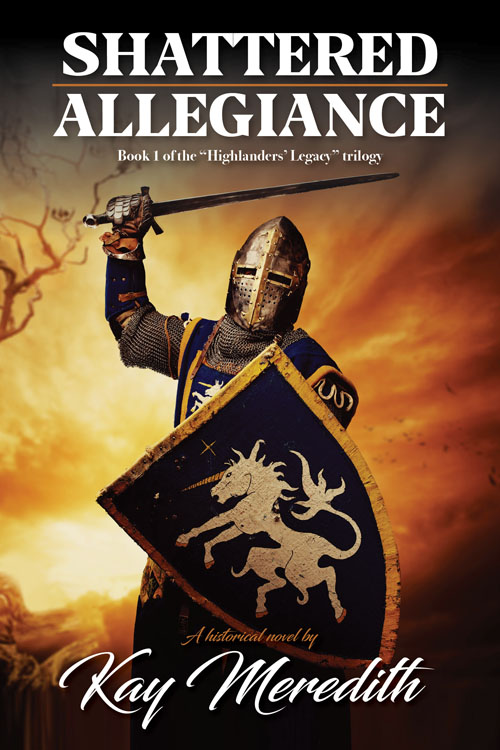 Two people are about to begin a battle of wills that change their lives forever
Edward Lexington is English, rich, and happy-go-lucky. Kit MacDougal is Scottish, poor, and headstrong. Thrown together by the Border wars between England and Scotland, they collide with the force of an English knight and a Highland warrior!
Edward's father is killed in battle by Kit's brother, Malcolm. Edward is wounded and carried into the Highlands to be held for ransom. Kit must nurse him back to health so he can be returned to Lexington Estate and the ransom collected.
Now the war really begins!
Edward and Kit are grief-stricken by their own personal tragedies. He has just watched his father be murdered by Malcolm, and Kit's mother and younger brother were killed during an English attack on her village earlier in her life.
Throughout the weeks of Edward's recovery, the two enemies challenge one another's cultures, values, and allegiances. But while this is happening, they're also consumed with anger, confusion, and doubts about their personal feelings for each other.
After Edward escapes, both he and Kit wonder if their paths will ever cross again.
The In Between
A historical novel by Kay Meredith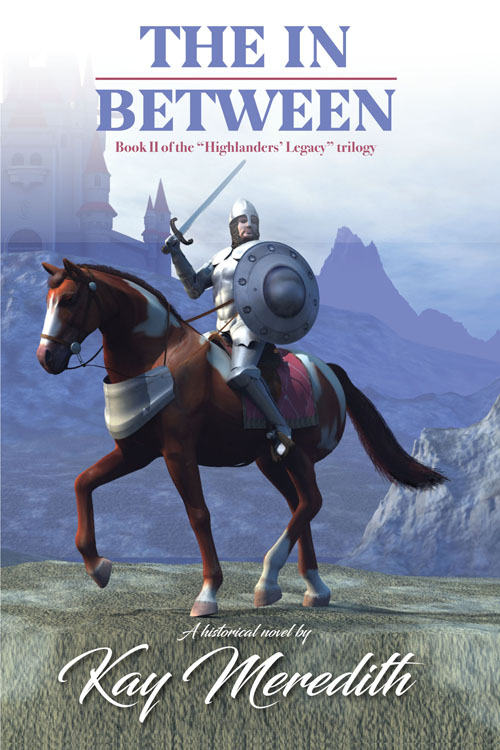 The suicide of his sister, Enid, drives Colin MacDonnogh to leave England
He must uncover his Scottish heritage to find his soul that lay buried somewhere in the Highlands.
Can Colin escape his sophisticated English upbringing at Lexington Estate and be accepted by his Scottish family, or must he always be trapped somewhere in between the two?
Treason, treachery, saboteurs, spies and love all combine to create this fascinating historical novel.
"The In Between" is book two of the "Highlanders' Legacy" trilogy. The reader will meet new friends and find old enemies as the story of the MacDonnoghs, MacDougals and Lexingtons continues to unfold.
The trilogy explores families and relationships torn apart by the Border Wars between Scotland and England in the early 1400s. The suffering, destruction, separation, and conflicts of loyalty take center stage as people search for healing, acceptance, forgiveness and peace.
Ms. Meredith's novels could easily be taken from today's headlines.
Nobody's Savior
A historical novel by Kay Meredith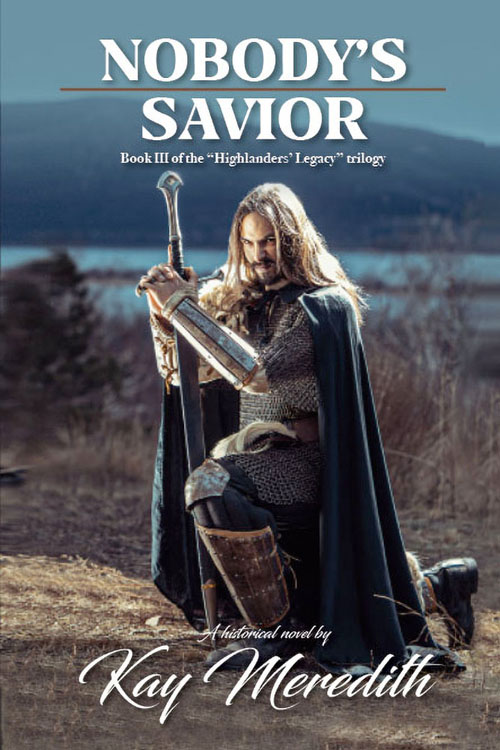 Malcolm MacDougal's life is filled with hate!
He is driven to avenge the deaths of his mother and brother—- killed in an attack by the Lexington Cove militia against their Highland clan.
Colin MacDonnogh's life is haunted by guilt!
He feels responsible for the suicide of his sister, Enid—-a consequence of her despair over the murders of their parents by Englishmen from Lexington Cove.
Both men seek retribution against the English.
Both men are sworn enemies of each other.
Can a new friendship between these old adversaries allow them to create a new kind of "war" against the English? A war that will bring peace to both men's hearts, while providing economic prosperity to their Highland clans.
In "Nobody's Savior", her final book of the "Highlanders' Legacy" trilogy, Kay Meredith weaves a tapestry of saints and sinners, ship captains and pirates, treasures and priests that provides a fascinating conclusion to her exploration of the early 1400s Border Wars between Scotland and England. It's a delight to read and furnishes much insight into the lives of her characters.
A Distant Whistle
A historical novel by Kay Meredith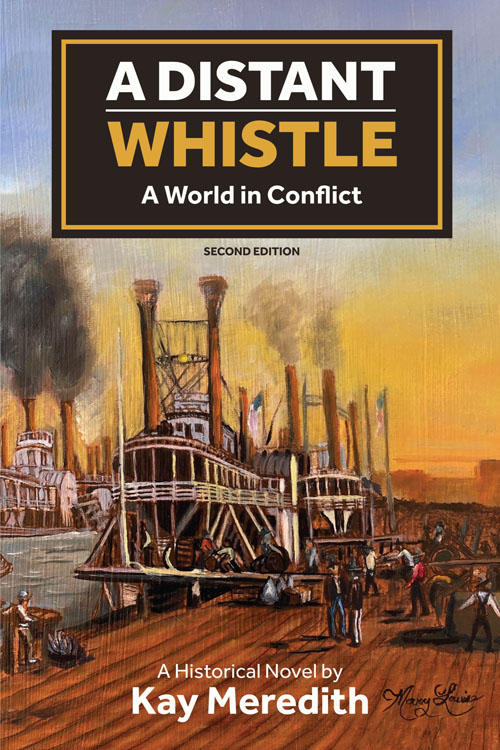 Excitement…Danger…Travel…Romance
What more could any young man want?
In her poignant but often humorous historical novel, A Distant Whistle, author Kay Meredith plumbs the depths of the universal truths and timeless emotions of family passions, struggles, courage, and love. While set in the hills of Appalachia, along the Ohio River during the early 1900s, the breadth of the lessons learned are universal.
Escaping a poverty stricken, volatile home life is Nev's driving motivation. Can the seductively haunting whistles of the steamboats that ply the Ohio River lure him away with promises of adventure and independence? He dreams of becoming an engineer on one of these magnificent vessels and carving out his own destiny.
Guilt, however, becomes Nev's frequent travelling companion. By abandoning his family to pursue his own quest, has he sacrificed his younger siblings to suffer the wrath of their mother? Torn between fear for their welfare and love of his new life, his emotional struggles weigh heavily on his heart. Where does his allegiance truly lie?
Like a river itself, Nev's journey winds through not only his personal conflicts, but the catastrophic events of the early 1900s that will leave no life unscathed; the 1913 Flood which leaves an "inland sea" that decimates the entire infrastructure along the Ohio and Mississippi Rivers; WWI that obliterates the dream of security offered by the Atlantic and Pacific Oceans; the Spanish Flu Pandemic that descends bringing a global pestilence killing tens of millions of people.
For the first time in history people cannot escape the ramifications of worldwide events over which they have no control.
Is it possible that amid the chaotic aftermath of the internal and external struggles confronting Nev and his family, they can discover compassion, reconciliation, and forgiveness for one another? In this riveting exploration of personal relationships, we find parallels in our own lives and insights from which we may all learn.
Affair at Boreland Springs: Second Edition
A historical novel by Kay Meredith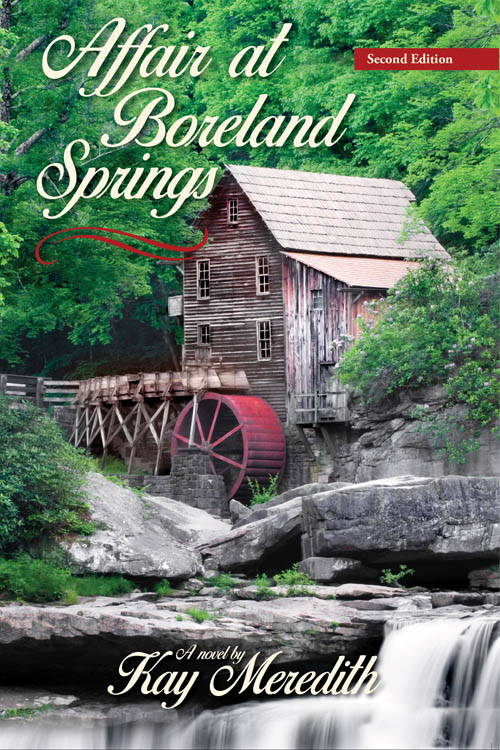 Moonshine! Murder! Mayhem!
And that's just for starters.
Sometimes one choice determines the path your life must follow… for better or worse. Melia's choice will haunt her forever and test the bonds of her friendship with Sil to the breaking point.
Wyatt, charismatic son of the famous Boreland Springs Resort owner, delights in entertaining the glamorous daughters of the wealthy clientele. He meets his match, however, in Melia, a local beauty, hired as a housekeeper for the summer. Thus begins the waltz between privilege and poverty, have and have not, dreams and reality. The choices made will resound across future generations.
Set in the beautiful hills of West Virginia, Boreland Springs Resort is the playground of the rich and influential families from Virginia, Maryland, and Washington, D.C. They come to bask in the springs famous mineral waters and partake of the illicit moonshine without fear of reprisal from authorities. A taste of the 'sinful life' without the guilt.
In "Affair at Boreland Springs", Ms. Meredith weaves an intricate tapestry of love, loss, and life, while capturing the strength of character and quiet grace of the Appalachian people that will touch your soul.
About The Author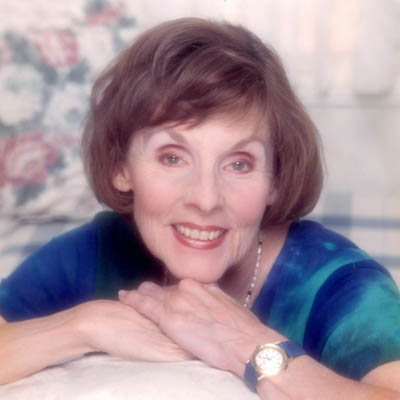 The roots of Kay Meredith's story-telling ability can be found deep in the beautiful hills of West Virginia. Starting in second grade she regaled both students and teachers with her excursions into wild places, peopled by riveting characters.
Her first professional writing came in the form of articles about training Dressage horses. Kay became a world renowned competitor for the United States Dressage Team and there was great demand for such training information.
But throughout her riding career, Kay knew that after retirement she would write historical novels. Always fascinated by history, but disappointed by the way it was taught in school, she weaves history in, around, and through her characters, setting and plot.
Kay's first two novels, "Affair at Boreland Springs", and "A Distant Whistle", relate to events that happened during the lives of her parents. Her upcoming release of the trilogy, "Shattered Allegiance", "The In-Between", and "Nobody's Savior", focuses on the struggle in the 1400s between the borders of Scotland and England.
Kay Meredith now lives in Raleigh, NC, and invites you to sign up for her email newsletter. You'll find updates on her publishing schedule, links to research for her novels, and stories from her childhood. She would love to hear from you and welcomes questions you may have about her books.