Affair at Boreland Springs: Second Edition
A historical novel by Kay Meredith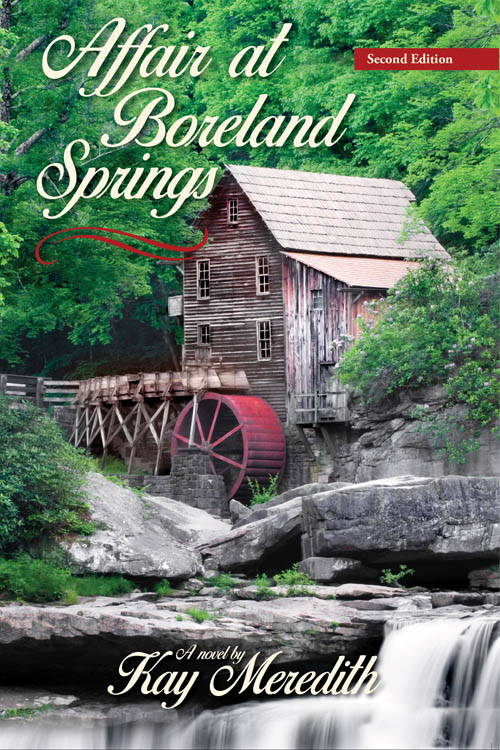 Moonshine! Murder! Mayhem!
And that's just for starters.
Sometimes one choice determines the path your life must follow… for better or worse. Melia's choice will haunt her forever and test the bonds of her friendship with Sil to the breaking point.
Wyatt, charismatic son of the famous Boreland Springs Resort owner, delights in entertaining the glamorous daughters of the wealthy clientele. He meets his match, however, in Melia, a local beauty, hired as a housekeeper for the summer. Thus begins the waltz between privilege and poverty, have and have not, dreams and reality. The choices made will resound across future generations.
Set in the beautiful hills of West Virginia, Boreland Springs Resort is the playground of the rich and influential families from Virginia, Maryland, and Washington, D.C. They come to bask in the springs famous mineral waters and partake of the illicit moonshine without fear of reprisal from authorities. A taste of the 'sinful life' without the guilt.
In "Affair at Boreland Springs", Ms. Meredith weaves an intricate tapestry of love, loss, and life, while capturing the strength of character and quiet grace of the Appalachian people that will touch your soul.
About Borland Springs, West Virginia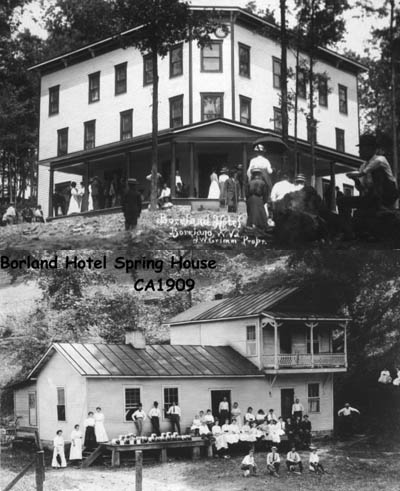 Borland Springs is located in northern West Virginia, about 20 miles due east of Parkersburg and roughly 10 miles south of the Ohio River. The healing properties of nearby mineral springs led to the town's popularity in the early 1900s, and it was home to the Borland Springs Hotel. The hotel, which opened in 1908, was the scene of a murder in 1918, and shortly after that, guests began to report strange noises and other paranormal activity. The hotel closed in the early 1940s and fell into disrepair. Click on the links below for more information about Borland Springs.
"The Borland Springs Hotel" by Michael L Naylor, available on Amazon.
Borland Hotel, Pleasants County, WV Genealogy Page
Haunts of the World, Borland Springs Hotel
Kay's Connection to Borland Springs Hotel
My mother, Elma Sweeney, was born in 1909, near the Borland Springs Hotel. She and her four sisters worked at the hotel as teenagers to help support the family. Mom and my aunts not only worked as maids, cooks, and housekeepers; they also entertained the guests as musicians. The entire family was very musically gifted in voice and instruments.
I was born within a mile of the resort. Mom often walked with me to visit the old spring house where we could still see bloodstains on the floor. She told me that no matter how hard they scrubbed or what cleanser was used, nothing would completely remove the blood from where the murder of John Maidens had occurred in 1918.
My last visit to Boreland Springs was with my mom when she was 92 years old. We could barely find the remains and we didn't even get out of the car. The Boreland Springs Hotel was gone… but the memories still remain!
Reviews for "Affair at Boreland Springs"
"A finely crafted, heartbreaking story set in the beautiful Appalachian Mountains. Historically authentic with engaging characters." – Ken Hechler, Author of "Bridge at Remagen", (made into the movie of the same name), and former US Congressman.
"Kay Meredith excels as a storyteller. She is a master wordsmith; her use of colloquialisms entertains. The reader visualizes the past…in this case, into West Virginia in the early 1900's when bootlegging moonshine provided a livelihood for families eking out an existence… Affair at Boreland Springs… out of personal tragedy comes a triumphant piece of American Literature." – H. Robert ("Bo") Belton, Educator and Equestrian
"This book does everything a great book should do—grabs you at the beginning and leaves you wanting a sequel." – Debi Sutton, Avid reader and horse lover
"Let me warn the reader that once Kay has you under her spell, you will not be able to put this book away." – Linda Zang, Dressage judge and Equestrian
"Really, really loved this book! I could almost smell, hear and taste West Virginia from the fantastic descriptions. The characters were real, the plot was excellent and kept a good pace. The ending is a great "thought provoker". Definitely add this book to your reading list…you will not be disappointed!" – Sandie's reviews, Goodreads
"The book was a wonderful story set during the Great Depression in rural West Virginia. The characters were finely crafted and the story heartfelt. I found myself not wanting to put the book down. I WANTED to know what happened to the characters. So 5 stars for this story!" – Theresa's review, Goodreads
Authentic; Emotionally Gripping—Well Done Kay Meredith
"Kay Meredith's first book lacks any of the common mistakes often made by new novelists. The opening grabs you, the "guts" keep you emotionally engaged, and the ending is anything but tiring. With the same precision she executed in the world of professional horseback riding, Kay Meredith carefully crafted a well- planned, twisty tale that draws you in from the very start. Her book paints a lively, true-to-life picture that spans three significant historical times that, while few of us are old enough to remember outside of stories told by grandparents, she makes seem familiar all the same.
Her meticulous attention to historical detail is neither painful, nor artificial, and offers delicate yet tangible insights into a shaken world that might otherwise seem foreign. "Affair at Boreland Springs" begins during the boisterous era of prohibition in West Virginia, winding into the Great Depression, and on into World War II. As history unfolds, her characters adapt, evolve, and surprise.
The main storyline of an unwed mother is intricate, but cleverly threaded and cohesive. Her fictitious Appalachian characters seem very real — Their trials, joys, and losses will keep you riveted, turning page after page, unable to put the book down." – LaWolfe
An Old Story Revived
"Great book. I'm an avid reader living in the general area of Boreland Springs. A novel twist on the old tale of the hotel and the springs. Characters are very believable and in keeping with the attitudes of this part of the country. A very entertaining read. Hope she publishes more fiction." – Patty Mac
Kay writes as well as she rides and teaches – brilliant
"I grew up in that neck of the woods and she does a brilliant job of describing it. Kay was a great riding teacher, kind and gentle but determined that you did your best (I was Dr. Fisher's daughter if she reads this) and that is why I bought the kindle book. I didn't think I would get such a fine read! An excellent book, a real page turner, and I highly recommend it." – Amazon customer verified purchase
Fascinating fiction/history story that has not been told previously
"I learned things about my WV home that I never knew. I have given this book to members of my family and friends. I am proud of the strong independence and determination of those mountaineers. It is also a beautiful, even though painful at times, love story.
If you like a good story of interesting people this is the book for you." – Phillip D. Kimble
Five Stars
"Loved the book!!! I wish she would continue the story and write another." – Amazon customer verified purchase
Pure West Virginia
"Loved the book and the time spent riding under Mrs. M in West Virginia. Congratulations on your first novel and I hope the second book is on the shelf soon."
Great Book
"Affair at Boreland Springs is a great book. It was a page turner, keeping my interest through to the end. I would highly recommend this book if you're going away for a relaxing weekend and you just want to hang out and read. I picked it up and couldn't stop reading. This is a winner." – Suzin R. Daly