Shattered Allegiance
A historical novel by Kay Meredith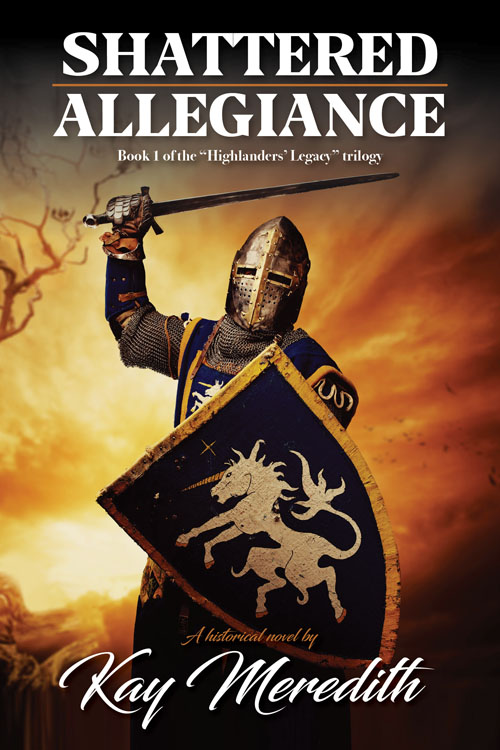 Two people are about to begin a battle of wills that change their lives forever
Edward Lexington is English, rich, and happy-go-lucky. Kit MacDougal is Scottish, poor, and headstrong. Thrown together by the Border wars between England and Scotland, they collide with the force of an English knight and a Highland warrior!
Edward's father is killed in battle by Kit's brother, Malcolm. Edward is wounded and carried into the Highlands to be held for ransom. Kit must nurse him back to health so he can be returned to Lexington Estate and the ransom collected.
Now the war really begins!
Edward and Kit are grief-stricken by their own personal tragedies. He has just watched his father be murdered by Malcolm, and Kit's mother and younger brother were killed during an English attack on her village earlier in her life.
Throughout the weeks of Edward's recovery, the two enemies challenge one another's cultures, values, and allegiances. But while this is happening, they're also consumed with anger, confusion, and doubts about their personal feelings for each other.
After Edward escapes, both he and Kit wonder if their paths will ever cross again.
Highlanders' Legacy Trilogy
"Shattered Allegiance" is the first of three novels depicting an epic saga of three families: The Lexingtons, MacDonnoghs, and MacDougals. The trilogy follows them as they fight for survival in the Border wars between Scotland and England during the early 1400s.
Conflicts as intense, intriguing, and treacherous as any of the military battles rage between both the parents and children of the families.
Love, hate, spies, pirates, priests, and saints weave their way through "Shattered Allegiance", "The In Between", and "Nobody's Savior." Riveting characters face personal challenges regarding their allegiance to long held beliefs, cultures, and love.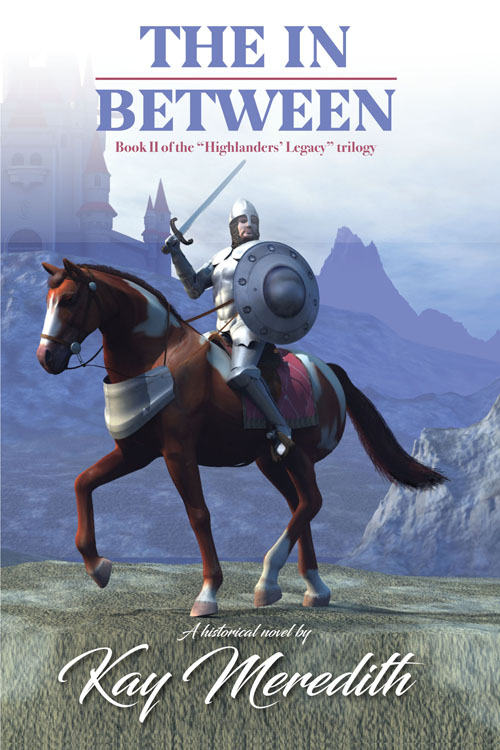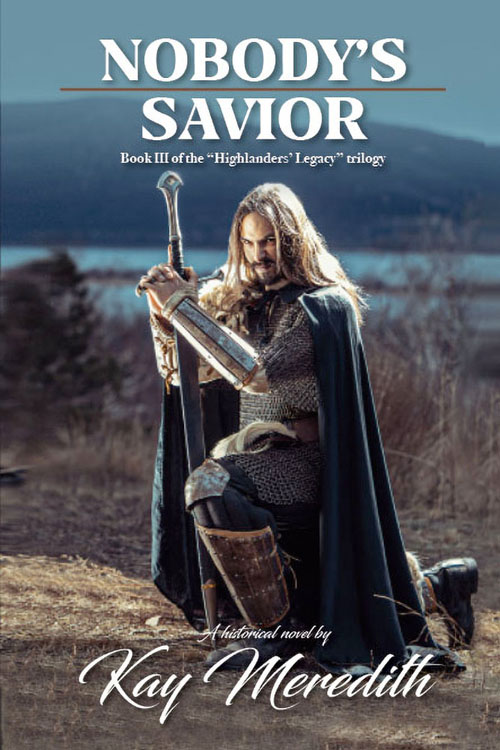 More About Author Kay Meredith
The roots of Kay Meredith's story telling can be found deep in the hills of West Virginia. She entertained both teachers and classmates with her tales of wild places, peopled by riveting characters.
In her first profession, Kay became a world-renowned competitor for the United States Dressage Team. She traveled the globe representing her country with her horses.
But throughout her riding career, Kay knew that upon retirement she would write historical novels. Always fascinated by history, but disappointed with the way it was taught in school, Kay weaves history in, around, and through her characters, setting, and plot.
Ms. Meredith's first two novels, "Affair at Boreland Springs" and "A Distant Whistle," relate to events that happened during her parents' lives.
Her "Highlanders' Legacy" trilogy focuses on the struggle in the early 1400s between Scotland and England along the Borders area between the two countries. Kay follows several families and examines how their personal relationships change over time as they interact with one another.
The "Highlanders' Legacy" includes, "Shattered Allegiance," "The In Between," and "Nobody's Savior."